The Tod Dockstader Remix Project
In collaboration with our friends at Imagem, we have put together a very exciting remix project for you to produce a unique reinterpretation of Tod Dockstader's "organised sounds".
Tod Dockstader (born 1932, Minnesota, USA) fills a space, alongside Raymond Scott and the BBC Radiophonic Workshop, in which electronic music making as we know it was shaped through the mid-20th Century.
Building on Edgar Varèse and Pierre Schaeffer's pioneering work in early electronic composition and musique concrète, Dockstader experimented at Gotham Recording Studios, working with tens of thousands of feet of magnetic tape to create beeps, creaks and squeaks; otherworldly sounds that possess a sinister beauty and, at times, are occasionally straight-up strange.
For this remix project you can cut, splice, stretch, loop or manipulate the original music in whatever way you like. There are no restrictions on tempo, style or genre.
The works on offer for you to play with have been selected from two rare (and pricey) Boosey & Hawkes library LPs, recently reissued by Mordant Music. The first volume is available in full here at Bleep.
To see/hear more about Tod Dockstader this biography and 1963 interview on UbuWeb is a good starting point. And this article in Wired. A further attempt to document the remarkable man's music and current condition is also in progress, titled Unlocking Dockstader.
Press play below to hear a mix of the Tod Dockstader samples for you choose from. For further specifics on this CDR project please scroll down and read the numbered guidelines:
Production Notes
1. Download the selection via the button above or here.
2. Listen to the full mix of samples and choose one of Tod's tracks to focus your remix on. See Track IDs in our timed comments. Elements of other tracks from the selection can also be used as your sample pallet.
3. If you would like to share your work in progress before the final deadline please upload to the CDR Project dropbox.
Work in progress versions should be named as follows:
[Tod Dockstader trackname] – [Your artistname] CDR Remix WIP
4. Final versions can be uploaded to the CDR Project dropbox and/or submitted at the CDR London session on February 10th.
Your final version should be named as follows:
[Tod Dockstader trackname] – [Your artistname] CDR Remix MASTER
5. Please note your final submission should include production notes and hi-res portrait (min 300px). Production notes need to include:
The Digital Audio Workstation(s)
Music creation plugins
FX plugins
Remix workflow
Challenges you faced and overcame
Mixing considerations
DEADLINE: Monday February 11th, 6pm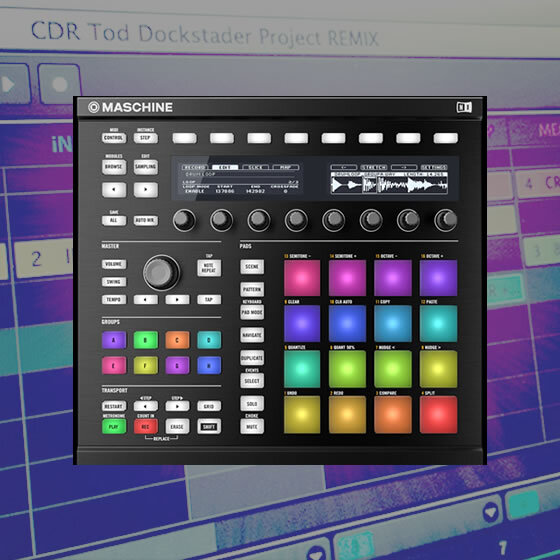 PREVIEWS: CDR London, Sunday February 10th
10 top notch submissions will be released digitally, with our favourite picks also on a limited edition Vinyl EP to be released later in the year. We are also delighted to announce that we have a brand new Maschine MK2 from Native Instruments to give to a producer who creates a remix we deem worthy, as determined at CDR London Sunday Feb 10th.
Maschine MK2 is the latest in a series of groove production studio systems from Native Instruments. Originally released in 2009 this hardware/software system has paved the way for pad focussed music production beyond hardware centric classics such as Akai's MPC and E-mu's SP series. More information about Maschine MK2 here. Hungry? Check the tutorials for a deeper workflow insight and get your remix ready in time!